Respected Shravika,

Pranam.

MSJS Virti Vrund - A female-only group with an objective to educate and empower female Sadharmik to practice Jainism in their daily life. 

Since its establishment in 2017, Virti Vrund has been organising multiple events annually, all geared towards achieving this objective.

Over time, the group has expanded its scope beyond mothers and aunts, now providing a platform for young girls aged 10 and above. This development is significant as it allows the next generation of females to participate actively in Shri Sangh's activities and provides a platform to express their views while respecting Jainism principles.

You are invited to yet another upcoming Virti Vrund event per the details given below.

Date & Day: Sunday 13th August 2023
Time: 10:30 AM to 2:00 PM
Venue: MSJS Centre, 124-126 Rowans Road, Moorabbin 3189
Dress code: Traditional wear – White or Pastel Colors

Who can attend?: It's a female-only event. All women and girls above the age of 10 are welcome to join

What to bring?: Your Samayik Bag / Samayik Upkaran
Agenda: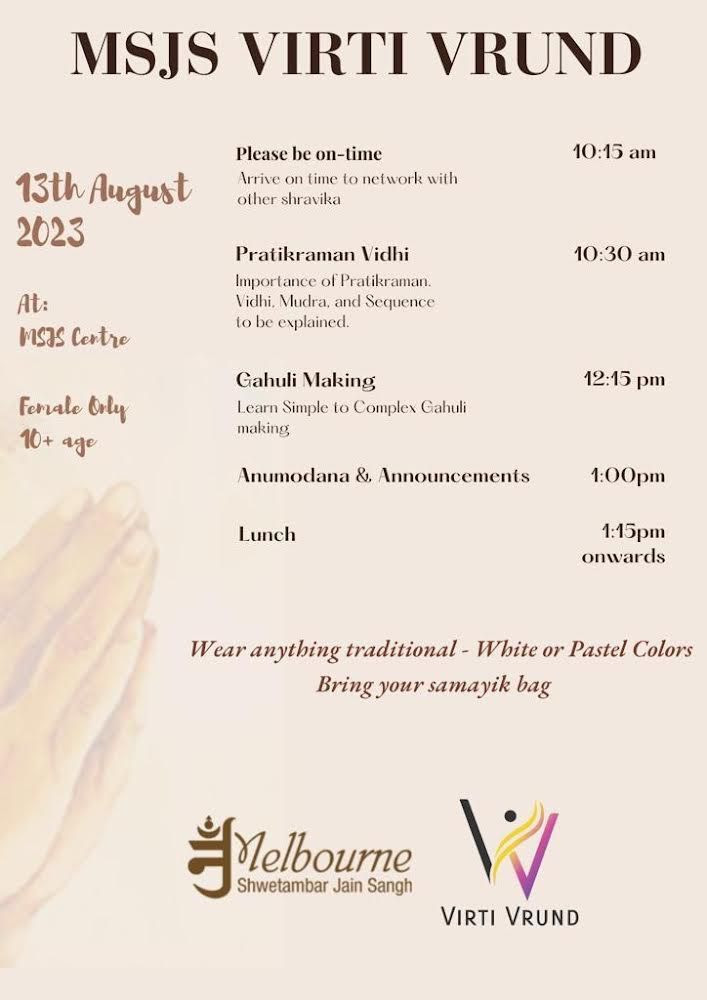 RSVP is required to attend this event. Please submit your RSVP by Wednesday, 9th August by clicking here.

We look forward to welcoming you to this event.

Regards,
MSJS Virti Vrund Committee