Respected Shravak/Shravika,

Pranam.

We are pleased to inform you that we have awarded Jinalay carving contract in India to Sayona Industries (Harshadbhai Chavda) on Friday, 30/10/2020.

On the same day, Our Jinalay Architect Sompura Shri Rajeshbhai and Shri Harshadbhai visited Dharmachakra Tirth, Nashik to seek blessings of Acharya Shri Jagvallabh Suri Maharaja, Acharya Shri Harshvallabh Suri Maharaja and Acharya Shri Darshanvallabh Suri Maharaja.

As per the guidance provided by Jinalay project Nishradata Acharya Shri Jagvallabh Suri Maharaja and as communicated in the last project update meeting, Carving work will commence on upcoming Ravi Pushya Nakshatra day as per below details.

Prior to commencement of the carving work, we will perform Nav Grah, Dash Dikpal, Ashta Mangal Patla Poojan, Kshetrapal Poojan and Snatra Pooja at the carving site in Pindwara. All of us will be able to attend this Poojan and witness this important milestone online.
Tithi: Aaso Vad 7, 2076
Day and Date: Sunday, 08/11/2020
Melbourne Time: 12:00 PM to 02:00 PM
India Time: 06:30 AM to 08:30 AM
Location: Sayona Industries, Pindwara, Rajasthan, India

---
Live Telecast:
Click here to connect the Zoom session to witness yet another milestone of MSJS Jinalay and Centre project journey.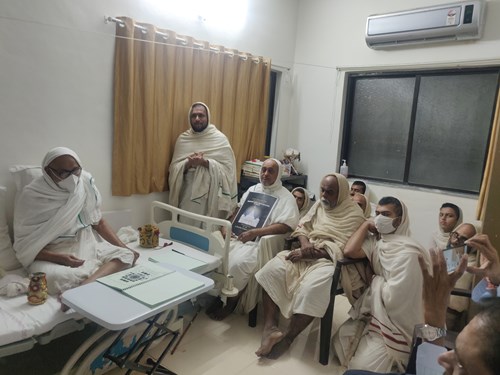 We at MSJS are fortunate to have received divine blessings by three Acharya Bhagwant. Click here to read their blessings.
For any questions, please email us on [email protected]. 

Regards,
MSJS Management Committee