Respected Shravak/Shravika,
Pranam
With the blessings of Dev, Guru, and Dharma and with immense pleasure & pride, Shri Melbourne Shwetambar Jain Sangh, under the guidance of Acharya Shri Jagvallabh Suri Maharaja, invites you and your family to be a part of an historic, once in a lifetime and divine Anjanshalaka Mahotsav, that has been planned for 6 days from Saturday 28 Jan to Thursday 02 Feb 2023, at Shri Manas Mandiram Tirth Shahapur, Maharashtra.
We cannot stress enough that this is the most significant part of our journey towards building a Shikharbadh Derasar and what we all have worked for / contributed to in the last 7 – 8 years. It is this moment that some of us have been dreaming about each day!
We will continue to organise information sessions in the lead up to this Mahotsav which will help us gain knowledge on:
What is Anjanshalaka?
Why is this important?
What events have been planned?
What is the significance of each event?
Key highlights of the Anjanshalaka Mahotsav: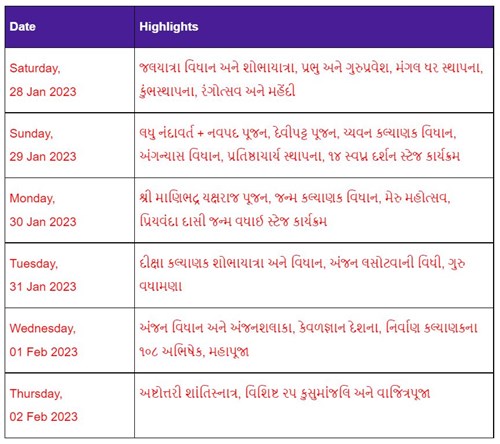 MSJS is also pleased to inform you that Param Pujya Acharya Bhagwant Shri Jagvallabh Suri Maharaja will perform Anjanshalaka of all pratimajis of our Bhagwan, Dev and Devi during the Mahotsav. In total, we are expecting over 100+ other Shraman / Shramani Guru Bhagwant to grace the occasion. 
With the actual event being just a little over 5 months away, we are now in the process of finalising the event activities including accommodation and a big part of that is to give Sadharmiks the opportunity to plan their travel accordingly and be a part of this Mahotsav.
To ensure each Sadharmik is able to experience the divinity of the Mahotsav and for hassle-free accommodation at Shri Manas Mandiram, we are requesting everyone to submit their RSVP as early as possible.
RSVP Rules:
Non-refundable AUD 10 per person per day

First come, first served

RSVP is for all 6 days (cannot be done for less days)

MSJS Management committee reserves the right to amend any of the above without a prior notice
MSJS Committee has decided that each attendee will need to pay a nominal charge of AUD $10 per person per day for food and accommodation. So, in total $60 per person for the entire Mahotsav. This is a highly subsidised cost as the actual cost per person is much higher. The deficit will be funded by MSJS's SSS (Spiritual Security Subscription) fund.
If you have any other queries, please email us at [email protected].
Looking forward to seeing you at the event.
Regards,
MSJS Management Committee